Mystery Foxes are a collectible in Mafia: Definitive Edition.
Availability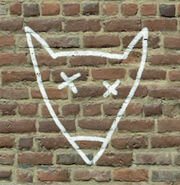 Mystery Foxes are a series of 50 collectibles found across Lost Heaven. They are located throughout Lost Heaven and North County. They will usually have a fox symbol painted somewhere nearby, and may require climbing over obstacles or dropping down from above to collect. There are five Mystery Foxes that must be collected during specific missions, the rest can be collected at any time or in Free Ride. For a detailed guide of all collectibles, please see the Mafia: DE Collectible Walkthrough.
Locations
Found in Missions
Five foxes are found within missions.
Beech Hill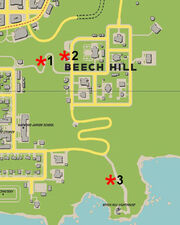 1. In a shack on the dirt road between Oakwood and Beech Hill.
2. On top of a well behind a house in northwest Beech Hill.
3. On a small boat behind a shack about half way down the path to the Beech Hill Lighthouse.
Central Island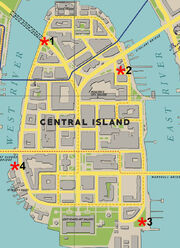 1. On a small ledge above the entrance to the West River Tunnel. You must drop down from above.
2. On top of a small brick building just south of the Giuliani Bridge on the eastern side of Central Island.
3. On the lighthouse in southeast Central Island.
4. On a wooden dock in the northern most part of St. Peter's Docks.
Chinatown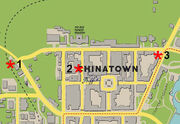 1. Under a railroad overpass in northwest Chinatown.
2. In the alley right next to Smith Service Station.
3. In a wood shack behind a brick wall just west of the Terranova Bridge.
Downtown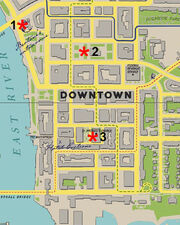 1. On the east side of Bertone's Auto Service.
2. In a park behind a statue.
3. Along the western wall of St. Michael's Church.
Holbrook
1. Behind a wooden fence under the railroad tracks, southwest of Salieri's Warehouse.
2. In a back alley next to a garage on the eastern edge of Holbrook.
3. In a fenced off area underneath a support structure in eastern Holbrook.
4. Found by a shack at the very center of Holbrook Park.
5. Down a short alleyway next to Carlo's Apartment in southwest Holbrook.
Little Italy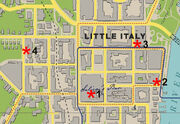 1. In the back room of Ralphie's Garage.
2. In a walled in area in near the West River, two blocks east of Salieri's Bar.
3. In a fenced in area just below the "L" in Italy on the map.
4. Next to a shack behind a wood fence in western Little Italy.
North County
1. In the corner of the Lost Heaven Airport parking lot, in a flower bed.
2. At the crossroads east of Heaven's Peak, on a Lost Heaven Airport billboard.
3. Take the winding road from the above location and it will be on a grassy rock outcropping on the side of the road.
4. Continue along the same winding road to the intersection east of Durham Pond and it will be on a grassy rock formation.
5. Take the dirt road north towards Lake Fyer (veer left at the fork) and it will be by a large white barn on the left side of the road.
6. Continue north until you cross the second small wooden bridge and it will be underneath.
7. Further north along the southern shore of Lake Fyer inside a rowboat just west of some shacks.
8. Inside a wooden shed by a stack of firewood at Westbank Mill.
9. Inside a shack on the side of the road east of Old Ford Bridge.
10. On the front balcony of Clark's Motel. Use the stack of firewood on the south side to climb up in Free Ride.
North Park
1. In a short alleyway next to Morello's Lounge Bar.
2. In a walled off area half a block north of Morello's Lounge Bar.
3. In a shack along the river west of Pepe's Restaurant.
Oakwood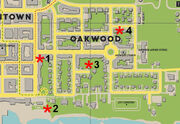 1. On the western most side of Oakwood in an alcove behind a gate.
2. On a grassy outcropping near the shore behind Giorgi's Diner. Must drop down from above to collect.
3. In the back yard of the Angelo House.
4. On the front porch of a house in northeast Oakwood.
Works Quarter
1. On a stack of I-beams behind a wooden fence just northeast of the Central Rail Station.
2. In a walled in area just below the "R" in Works on the map.
3. In an area walled in by a brick fence, underneath a steal support structure.
4. Sitting next to a wood building. You will need to pass through a wooden garage from the south road to enter the area.
5. On a stack of wood in a gated alleyway in the southwest.
6. Inside a shack in south central Works Quarter.
Gallery