The Mafia Wiki
The Mafia Game Wiki is a collaborative encyclopedia about the third-person shooter series of games centered around Family, Power, Respect, and Loyalty. Games included in the series are:
Mafia
,
Mafia II
,
Mafia III
, and
Mafia: Definitive Edition
Mafia Wiki: Select Your Game Experience
Featured Article
Baron Saturday's Fun Park is an abandoned theme park located in Delray Hollow. The park was opened briefly in the early 1950s, and for the short time it ran, it catered to the needs of the residents of Delray Hollow. Unfortunately, the park lost its funding and closed, but what remains of Baron Saturday's Fun Park is still worth taking a look for all of you explorers. While it isn't advisable to bring the kids to a half completed construction site, it is still good for a couple amazing photos. Read more • Read other featured pages
---
Mafia Series Trivia: Which Mafia series character was offered the position of caporegime if he killed Vito Scaletta? Click here to find out.
---
Mafia Wiki News
Qstlijku
•
We are pleased to announce that the Mafia Wiki now has a Discord server, just in time for the release of Mafia: Definitive Edition. You can find the …
---
Featured Videos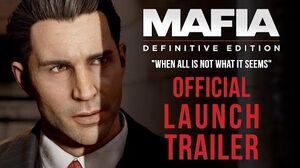 Social Media