'Mafia III' Father James and John Donovan - The Mentors Character Profile
Father James is a character in Mafia III.
"If all you ever look for is evil, it's all you're ever going to see."
— Father James
History
Father James Ballard is a spiritual adviser and adoptive uncle to Lincoln Clay. He rescues Lincoln from the attack by the Marcano Crime Family and looks after him while he recovers.
Background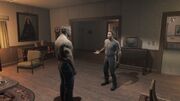 Father James served in WWII as a medic in the Third Platoon, Company C, of the 614th Tank Destroyer Battalion. After the war he spent a few months working odd jobs before attending seminary. After graduation, Bishop Jenkins sent him to work at Saint Michelle's Orphanage, where he met Lincoln Clay. When the orphanage closed in 1958, he was appointed to the Saint Jerome's Catholic Church, where he stayed until he retired in 2002.
Appearances
Mafia III
Sign of the Times
Trivia
Father James owns a Berkley Executive.
Any previous conversation mission for Father James will be permanently deleted when a new one is added.
Gallery