Clothing in Mafia III consists of twenty three outfits Lincoln can wear.
Availability
Clothing options become available once you reach Sammy's Bar in the mission Thicker Than Blood. All outfits unlock at this point with noted exceptions. You will find a wardrobe in any safehouse or racket location that's been taken over by Lincoln.
Locations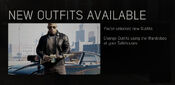 Outfits
Action
Plain White Tee: Sleeveless tee and jeans, perfect for when you're out on those hot New Bordeaux streets.
On Leave: At ease soldier, with this tee and jeans combination.
Full Metal II: Beat the heat with this alternate set of gear from in-country.
Full Metal: Let 'em see you coming with your full set of gear from in-country.
Combat: Get ready for war with your standard issue jacket and jeans.
Jungle Camo: An updated take on the traditional camo fatigues.

Available with Stones Unturned added, unlocks after main Stones Unturned story complete.

The Wanderer: Hit the open road in this modified version of your starting outfit.
Formal
Mr. Clay: Baby, you're a rich man. Dress like it with this three piece suit.
Business Hours: Go for a professional look with this vest and suit pants combo.
Waiter: Careful, you might have trouble getting the blood stains out of this wait staff uniform for the Retroussé Yacht Club.
Tee Time: Go to the club - the gold club, that is - in this colorful polo shirt.
Special
Pro-Am: Race in style with this Hangar 13 jacket and racing gloves.
Revolutionary: You're black and proud. Show 'em with this leather jacket, turtleneck, and black pants.
Fed: Look all official with this Federal Reserve uniform.
Bad, Bad Mr. Burke: Get ready to do some dirty work in this outfit inspired by Pointe Verdun's favorite son.
On the Prowl: Everybody looks better in black. Blend into the shadows with this outfit inspired by Cassandra's leather jacket combo.
Classico: Sport these old school threads inspired by Vito's look.
The Experience: Strap on your bandana, lose the undershirt, and prepare to rock out with this ensemble.

Available with Faster, Baby! added, unlocks when wardrobes become available.

Blue Genius: Walk tall in this butt-kickers denim get-up.

Available with Faster, Baby! added, unlocks when wardrobes become available.

Party Animal: Thrill, kill, and chill in this Hawaiian shirt.
Motorcycle Club: Own the road in these custom-fit leathers.

Available with Sign of the Times added, unlocks after main Sign of the Times story complete.

Tommy Angelo's Pin Striped Suit.

Available with Mafia III: Definitive Edition when Mafia: Definitive Edition is owned, unlocks when wardrobes become available.

Vito Scaletta's Leather Jacket.
Trivia
Clothing Gallery
Promotional Images