GTA: The Criminal Enterprises - The Loop
Play Sound
Charlie's Service & Repair is a business in Empire Bay.
History
It is a chain of automotive repair shops in Empire Bay that belong to Charlie Lopez. He runs the business from his main office at Charlie's Service Station in Southport along with his mechanic Tommy.
They offer vehicle repair and customization, including engine upgrades, color changes, wheels and tires, and personalized license plates. With the installation of either The Betrayal of Jimmy or Jimmy's Vendetta they will have an additional level of engine upgrade and custom paint such as racing stripes and flames.
Locations
Appearances
Options
Repair the Car
Make your car as good as new.
Fully repairs your vehicle, the price depends on how damaged it is.
If the vehicle is damaged no upgrades can be made until it's repaired, with the exception of changing the license plates.
Engine Upgrade
Level 1: Basic tuning
"Improve engine performance to run from the cops easier."
Improves maximum power and top speed. Price depends on the vehicle and ranges between $358-$867.
Level 2: Sports tuning

"Better handling'll give you an advantage in every car chase."
Improves vehicle handling by lowering the weight and tightening the suspension. Price: $591-$1153.
Level 3: Super Charge

"Fit a supercharger to get maximum power from this engine."
Only available with either of the Jimmy DLC's installed. Improves maximum power and top speed. Price: $752-$1475.
Change Rims
Main Article: Rims and Tires
Available from Chapter 2 on:
Dunniel Spinner $50 - $70
Dunniel Black Rook $55 - $75
Speedstone Alpha $70 - $90
Speedstone Beta $75 - $95
Speedstone Top Speed $85 - $105
Available from Chapter 7 on:
Galahad Tiara - $114
Galahad Silver Band - $119
Speedstone Diabolica - $130
Galahad Coronet - $134
Galahad Gold Crown - $139
Speedstone Pacific - $155
Paytone Mistyhawk - $160
Change the Plates
Change the plates if you need to legalize your car.
Change your license plate to evade the police or suit your personality. Choose up to six characters with numbers 0-9 and letters A-Z. Each change costs $50 - $80.
Repaint
Change the color to legalize your car. All modern colors - just pick your favorite.
Each repaint costs $84~$164. There are 40 different colors to choose from, 20 in the 1940s era and another 20 are added in the 1950s.
1940s

Ice White
Buttermilk
Cloud Gray
Stone Gray
Magnolia
Yellow
Rose
Burgundy
Rustic Brown
Forest Green
Silver
Fennel
Emerald
Scotch Mist
Dark Teal
Scaledo Black
Khaki
Schmittou Brown
Indigo Night
Cerulean Blue

1950s

Pale Face
Bright Gold
Praline
Minted Green
Jade Green
Lime Green
Willow Green
Zanda Blue
High Sierra
Candyfloss Pink
Fuchsia Pink
Denby Pink
Dark Gold
Burnt Umber
Mahogany
Bold Beige
Cherry Red
Sweet Chocolate
Sea Spray
Blackcurrant
Custom Paint
Custom paint schemes come in two different sets depending on the type of vehicle.
Set one: Greased lightning, Electric Flamingo, Wildfire, Nightfire and Hellfire.
Set two: LeMans 5, Racing Team 127 and Empire Heat.
Only available with either of the Jimmy DLC's installed.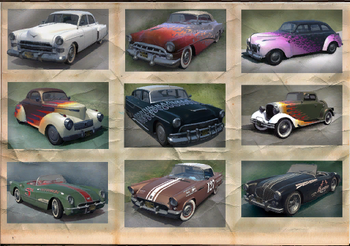 Trivia
Upgrading a car to level one will earn the player the Tuned Ride achievement.
Upgrading a car to level two will earn the player the Dream Handling achievement.
Vehicles can also be repaired in your garage for a price. In all three of the game's DLCs your garage automatically repairs your car at no charge; however, unlike the base game, the repair does not clean it.
Entering a Body Shop automatically cleans your vehicle. This can be used as a quick way to wash a car instead of using a Shiny car wash.
Gallery